Osmonds - The Plan - 1973
Thank you to Robert for these lyrics
Osmonds - The Plan (1973) (mgm se-4902) (LP)
Osmonds - The Plan (2001) (DE-77956) (CD)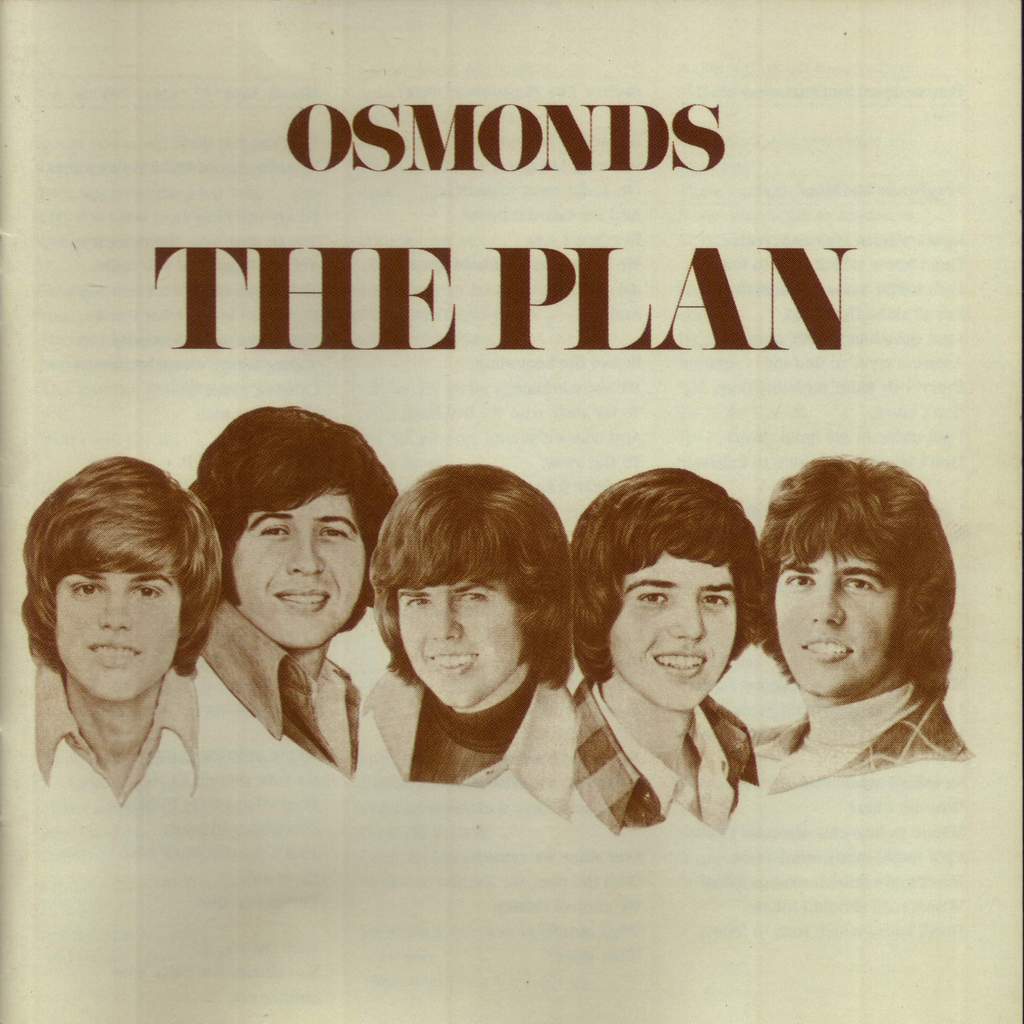 All songs composed and played by The Osmonds
Produced by Alan Osmond
Recorded at Kolob Studios, Los Angeles, California
Engineer: Ed Greene
All songs written by Alan Osmond, Merrill Osmond, Wayne Osmond.
© 1973, 2001 Mike Curb Music (BMI) / Osmusic Publishing (adm. by Mike Curb
Music) (BMI). All rights reserved. International Copyright Secured. Used by
permission
Sweetening arranged by:
* Tommy Oliver
** Pete Carpenter
*** Reg Powell
Special thanks to Mike Curb, Ed Greene and the baby
© 1973 (p) 1973 Universal Records, a division of UMG Recordings, Inc.
Manufactured and distributed by Curb Records, Inc., Nashville, TN 37203.
Printed in the USA. Warning: all rights reserved. Unauthorized duplication is a
violation of applicable laws.
Courtesy of Universal Records under license from Universal Music Enterprise
side 1
1. War In Heaven 1:38
2. Traffic In My Mind 3:00
Vignette: Don't Take It to Easy 0:57
3. Before The Beginning 3:39
Vignette: It's All Up To You 0:27
4. Movie Man 3:20
Vignette: I'm Sorry 0:19
5. Let Me In 3:38
6. One Way Ticket To Anywhere 3:08
side 2
1. Are You Up There? 4:32
2. It's Alright 2:36
3. Mirror, Mirror 2:25
4. Darlin' 3:10
5. The Last Days 3:04
6. Goin' Home 2:29
Side One
War In Heaven (Instrumental) 1.41 *
1. Traffic In My Mind 3:55
I got traffic in my mind yeah
Don't know which road to follow
I got traffic in my mind yeah
I'm on the road flying solo
I got questions looking at me
Answers trying to find me
Everybody telling me what they don't know
I got traffic in my mind yeah
Don't know which road to follow
I see blind men leading blind men
And telling us how to make it
I get better answers watching
Some little kid trying to fake it
So tell me who am I
Why am I here?
Where in heaven's name am I going?
I got traffic in my mind, yeah
Don't know which road to follow
So tell me who am I
Why am I here?
Where in heaven's name am I going?
I got traffic in my mind, yeah
Don't know which road to follow
Which road should I follow?
Don't know which road to follow
Vignette: Don't Take It Too Easy
Don't take it too easy
Don't take it too easy
Gonna take you for a ride
Don't take it too easy
A place where nothing hides
Don't take it too easy
Come on and step inside
Don't take it too easy
Gonna take you for a ride
Don't take it too easy
Gonna take you for a ride
Don't take it too easy
Don't take it too easy
Don't take it too easy
2. Before The Beginning 4.06 *
Before the beginning we were living
Oh, so far away from here
And we called it home but didn't stay
We knew that we could leave one day and cry
Before the beginning we were willing
To lay aside whom we had been
And take a chance to slip away
Or make it back to home one day, what for
Ever since we came to be
With the plan we've learned to see
We alone would guide our destiny
In the beginning we'd be living
As we would be, he once was
To look at him, to look at me
And think some day like him I'll be, what more
Ever since we came to be
With the plan we learned to see
We control infinity, what more
What more
Vignette: It's All Up To You
We are what we were and will be what we do
We're all on our own, yes it's all up to you
Doing what is false and to do what is true
It's what you've always wanted to do
3. Movie Man 3.36 ***
Why did you do it, you should not make your mother cry
I'd say you blew it, yes it gave you one more try
Yet you laugh and you smile try to run away
Don't you know what you do you might regret someday
Cause there's one who has eyes on your evil ways
The movie man
Why do you do it, you're in for a big surprise
Oh, I never knew it, but honey there's no telling lies
You're in living color, it's your picture show
Even what you're thinking everyone will know
That someday you'll have to take a stand
The movie man
You're in living color, it's your picture show
Even what you're thinking everyone will know
That's the day you'll have to take a stand
The movie man
Why did you do it, you should not make your mother cry
Vignette: I'm Sorry
Please don't let me see you cry. Let me say I'm sorry. So sorry. Oh yes, I'm sorry
4. Let Me In 3.39 *
Loving you can be so easy
Loving you could make me warm
Ever since the day I left you,
I tried but I just can't get you out of my mind
Thought that I could do without you
Thought I had to look around
But now that I know I need you
I promise that I'll never leave you
Won't you please?
Let me in, let me in your arms again
Let me give my love to you once more
Let me love you
Take me in, take me in your arms to stay
And I'll never go away again
Cause I love you
Never be the same without you
If I have to say goodbye
I have no right to ask you
But if you can won't you try to love me
Help me, I need you so badly
And let me
Let me in, let me in your arms again
Let me give my love to you once more
Oh, cause I love you
Take me in, take me in your arms to stay
And I'll never go away again
Oh, cause I love you
Oh, let me in, let me in your arms again
Let me give my love to you once more
Oh, let me love you
Oh, take me in, take me in your arms to stay
And I'll never go away again
5. One Way Ticket To Anywhere 3.06 *
Hey, hang on, just a little longer
Hey, come on, be a little stronger
Hey, hang on, just a little longer
Hey, come on, be a little stronger
You can do it, do it yeah
Do it, do it yeah
Do it, do it yeah, yeah
We're on a one way ticket to anywhere
There's no place we can't go
A one way ticket to anywhere
So hold on baby don't let go, no, no
One way ticket to anywhere
There's no place we can't go
One way ticket to anywhere
So hold on baby don't let go, no, no, no
No, no, no no, no
Hey, you there, drowning in the ocean
Hey, you there, put yourself in motion
You can do it, do it yeah
Do it, do it yeah
Do it, do it yeah, yeah, woo
You can do it, do it yeah
Do it, do it yeah
Do it, do it yeah, yeah, yeah, yeah, yeah
We're on a one way ticket to anywhere
There's no place we can't go
One way ticket to anywhere
So hold on baby don't let go, no, no
One way ticket to anywhere
There's no place we can't go
One way ticket to anywhere
So hold on baby don't let go, no, no
One way ticket to anywhere
There's no place we can't go
One way ticket to anywhere
So hold on baby don't let go, no, no
fade
Side Two
1. Are You Up There? 4.43 **
It could all end tomorrow where would I be
Does life go on or will it be the end of me
Seems a bit unfair to think that all I've learned and done
Belongs to no one
Why should I cherish living if there's no so called plan
Why, I would have no future if it were left to man
I can't believe that we just happened and don't know what for
There must be more
Why should I trust in a love that I can't have forever
Does it seem right to live a game of take away
Should I want for children if there isn't anymore for them to live for
Maybe I'm a pessimist, then maybe I'm not
One thing that I like to know is what I got
I don't want a miracle or see you in the air
But are you up there
Are you everywhere
Do you really care
Are you up there, Are you up there, Are you up there
2. It's Alright 2.37 *
Alright, alright, alright, alright, alright
Last night as I got home much to my surprise
Alright, oh, it's alright
Looked up, honey, there it was right before my eyes
Alright, oh, it's alright
Came to me like, like the lightning and thunder
What it was I, still I wonder what it was
Someday just by chance you see what I'm trying to say
Alright, oh, it's alright
Came to me like, like the lightning and thunder
What it was I, still I wonder what it was
Some find, some will never see or just throw it away
Alright, oh, it's alright, Alright, oh, it's alright, Alright, oh, it's alright
3. Mirror, Mirror 2.25 *
Mirror, mirror on the wall
I don't like your life at all
How did we ever come to be
The kind of person that I see
Mister, mister look alike
Don't we both want what is right
I want to change but can't you see
You're the one who's stopping me
You can lie and you can cheat
Step on those who kiss your feet
Do you think no one will see
Don't forget you can't fool me
4. Darlin' 3.11 **
Darlin', I look into your eyes
And see what words could never tell
Darlin' you've made me understand
The me I thought I knew so well
Like an angel sent from up above
You came and touched my life with love
Oh, Darlin' I'd love to make you mine, I would
Darlin' each time I look at you
I see a missing part of me
Darlin' if you will walk with me
We'll step toward eternity
And when the world is finally through
I'll still be ever loving you
Oh, Darlin' there is no end if I'm with you
Oh, Darlin' there's really nothing we can't do with you
5. The Last Days 3.01 *
Nations take up there battle stations
Patrons of zodiac revelations
Lustations breaking family relations
Litigation allowing shoot up sensations
That's what they said, someday it would be
Now just look around if that's what you see
It's gotta be the last days
Gotta be the last days
People living lives of confusion
Billions caught up in revolution
Cities lost in their own pollution
Question, what is the Constitution
That's what they said, someday it would be
Now just look around if that's what we see
It's gotta be the last days
Gotta be the last days
That's what they said, someday it would be
Now just look around if that's what we see
It's gotta be the last days
Last days, it's gotta be the last days
It's gotta be the last days
It's gotta be the last days
It's gotta be the last days
It's gotta be the last days
It's gotta be the last days
It's gotta be the last days
6. Goin' Home 2:31 (including "Don't take it too easy")
I'm a track star, I gotta run far
And I'm ready to go
It's a long, long road and I gotta make it on my own
Everybody's gaining on me
Trying to slow me down
But if I'm gonna make it gotta fight, fight, fight all day
And night, and day, alright
Goin' home, goin' home, goin' home
I gotta make it gonna make it alright
Goin' home, goin' home, goin' home
If it takes me the rest of my life
I'm a space man, from a different land
I gotta get back home
I've been gone so long that I'm feeling like a useless man
Everybody's looking at me
Trying to help me down
I've gotta fight, fight, fight even though it takes another day
And night, and day, alright
Oh, my, why, why is it either win or lose
Somehow, someday, I'll never, ever have to go away
Goin' home, goin' home, goin' home
I gotta make it gonna make it alright
Goin' home, goin' home, goin' home
I gotta make it, baby, make it alright
Goin' home, goin' home, goin' home
I gotta make it gonna make it alright
Goin' home, goin' home, goin' home
If it takes me the rest of my life